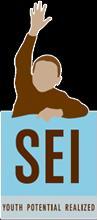 From SEI:
For many of us, just the mention of Christmas conjures up a world of fond childhood memories.

Unfortunately, it's not always that way for the scores of children served by SEI. Many are from broken homes, and have families who struggle through the best of times. As the economy has become tougher, their sense of hope for the future has faded.

But SEI's integrated approach to education is renewing hope in urban youth.

SEI addresses the vicious cycle of inner-city poverty through holistic services and an emphasis on education. And although education may not seem like the most pressing issue this holiday season, for many of these kids earning a degree is their only hope. Education allows them to overcome critical barriers to success – violence, unemployment, sickness and family-crisis.

SEI breaks down these barriers every day. An amazing 100% of SEI kids graduate high school each year. But we cannot 'go it alone.' Your donation today will help give hope to a struggling child this holiday season:
• $25 will help pay for vital after school programs
• $50 helps us provide educational field trips
• $100 helps cover the cost of SAT prep courses
I hope we can count on your support!

Tony Hopson, Sr., President and CEO

P.S. Tell a friend about this campaign and help children in need become positive, contributing citizens.