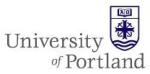 The University of Portland's 17th annual Reading Fair is set for Sunday, April 3 from 11 a.m. to 3 p.m. in the Chiles Center on campus, 5000 N. Willamette Blvd. The event is free and open to the public, and hosted by Kappa Delta Pi, the education honor society.
Every student will receive a free, new book of their choice for attending.
The fair's theme, "Reading Around the World," is designed to be a multicultural approach to literacy that will engage students from pre-kindergarten to middle school. Events throughout the day include arts, crafts and games that focus on reading as well as an obstacle course and storytelling performances.
Funding for the event is provided by Associated Students of the University of Portland (ASUP), the University Bookstore, and Bon Appétit Management Co. For more information, please contact the School of Education at 503-943-7135 student organizers Kati McConn at mcconn12@up.edu and Sarah Moran at moran12@up.edu, or professor Hillary Merk at merk@up.edu.