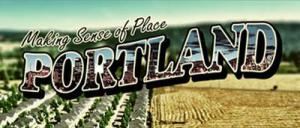 You're invited to…..
an Evening of Bits, Bites, (Gift) Bags & Benefits at the Living Room Theaters
Tuesday, April 6th, 2010, Doors open at 6 PM, Show at 7 PM
Living Room Theaters – 341 SW Tenth Avenue. Portland OR
Admission is FREE but space (& gift bags) are limited! RSVP required to Ron at ron@clfuture.org or 503-294-2889 x-11
Two Bits:
• Screening of highlights from the documentary "Making Sense of Place – Portland: Quest for the Livable City" which documents the history of Portland's experiment with land use planning. As part of this history, the film shines a light on one of the most fundamental challenges related to the success of our internationally-renowned planning approach:
How to revitalize communities without forcing out the people who have the greatest need for the benefits that revitalization brings?
• Discussion led by Kate Allen, Housing Policy Manager – Portland Housing Bureau; Dr. Lisa Bates, PSU College of Urban & Public Affairs; and Metro Councilor Robert Liberty to consider new ideas for how to tackle this issue.
Some Bites: Hosted Hors D'oeuvres (No- Host Bar)
(Gift) Bags: Yes….On top of a great program and Hors D'oeuvres….you will walk away with your own "Schwag Bag". Each attendee will receive a Lincoln Institute tote bag, the "Making Sense of Place – Portland: Quest for the Livable City" DVD and a copy of CLF's hallmark publication, the Regional Equity Atlas.
The evening is sponsored by the Lincoln Institute of Land Policy. "Portland: Quest for the Livable City" is the third film in the Lincoln Institute series titled Making Sense of Place, which examines the complex questions of urban planning and regional identity by exploring ways in which people participate in and experience their cities.