The City of Portland Graffiti Abatement program will sponsor eight (8) Saturday morning graffiti cleanups between March and October 2011. Interested neighborhoods/business associations should contact Graffiti Abatement Coordinator as soon as possible to be considered as a cleanup site.
Beginning in March, the cleanups will be held one Saturday each month from 9:00 a.m. – 12:00 p.m. and will be a combined effort by City-contracted graffiti removal crews, and a minimum of 10 volunteers from the community. Be a part of the solution! Prior to the cleanup date, residents/businesses will be asked to survey their area and compile a list of sites that have been vandalized by graffiti and then to submit the list to Graffiti Abatement Coordinator at least a week ahead of the event.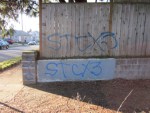 The contractor-crews will focus on paint-out or power-wash removals from private properties (provided we have signed owner-permission prior to the event). Volunteers will remove graffiti from properties "in the right-of-way", including utility poles, dumpsters, newspaper boxes, and other sites that are not routinely cleaned by agencies or owners.
Supplies will be provided by the Graffiti Abatement Program.
To participate, King will need to apply for one of 8 dates and have the minimum of 10 volunteers willing to do the removal and survey. The dates are from late March through October. If you are interested in seeing this happen in King this year, send us your information at info@kingneighborhood.org or come to our next meeting at 6:30 pm March 9th, at 4815 NE 7th.