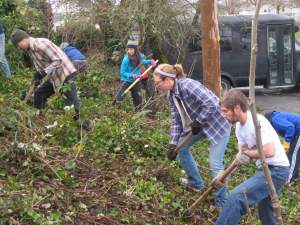 The community turned out on Monday, January 16th on the Martin Luther King Jr. Day of Service to make a dent in the weeds and trash at King School Park. English ivy had taken over the south side of the parking lot at the King Neighborhood Facility and was hiding all manner of things thereunder. A robust group of neighbors, King School PTA members, and invasive species foes dug, hacked snipped and pulled all day. The result is that the strip of land is now nearly completely cleared and several truck loads were hauled away.
Thanks to a grant from NECN and the East Multnomah Soil and Water Conservation District, the area will be re-landscaped with native plants that are not invasive and that will thrive in the location while providing an easily maintained habitat. There are tentative plans to finish the clearing on President's Day, February 20th.
Special thanks go to all the volunteers, Portland Farmers Market, Whole Foods, Starbucks, and Metro.