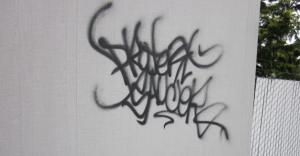 On Saturday, July 23rd from 9:00 am to 1:00 pm, King will hold its second collaborative graffiti cleanup.  This is a combined effort by City-contracted graffiti removal crews, and volunteers from King. Be a part of the solution!
There are two phases to the cleanup:
Volunteers will survey their area and compile a list of sites that have been vandalized by graffiti and then submit the list to the Graffiti Abatement Coordinator at least a week ahead of the event.
Contractor-crews will focus on paint-out or power-wash removals from private properties (provided we have signed owner-permission prior to the event). Volunteers will remove graffiti from properties "in the right-of-way", including utility poles, dumpsters, newspaper boxes, and other sites that are not routinely cleaned by agencies or owners.
Previous years collaborative events have resulted in more than 1000 sites cleaned in a "season".  Supplies will be provided by the Graffiti Abatement Program.  Volunteers must sign a volunteer agreement and application form, available at the Graffiti Program webpage: http://www.portlandonline.com/oni/index.cfm?c=32420
Volunteers can sign up for one or both phases.  Those who have already expressed interest in volunteering will be contacted this weekend to select an area to survey.  If you signed up and don't hear from us by Sunday, contact trace.salmon@kingneighborhood.org.   There is only a week until the surveys need to be submitted.